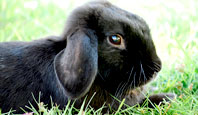 Posted on April 26, 2013 by amwellvets in rabbits.

The first week of May – from 5/5 – is Rabbit Awareness Week. We will be offering all rabbit owners free health checks during this week.So please take advantage of this opportunity to check that your rabbit is well and that you are making all the right choices to ensure their happy/healthy long life. We […]

Continue Reading... No Comments.