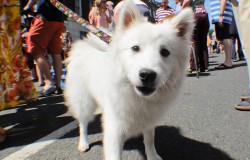 Posted on July 2, 2016 by amwellvets in dogs, events.

Join us for the Amwell Street dog show judged by Joe Clarke, Islington's Animal Welfare Officer – always a favourite event – at 2.30pm on Sunday 3rd of July  during the Amwell Street Fete. All entries welcome (before 2pm on 3rd July), every dog a winner!! Application forms are available from the Practice. Completed forms […]

Continue Reading... No Comments.