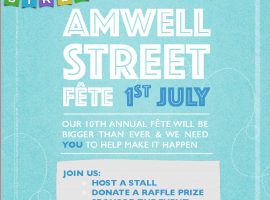 Posted on May 25, 2018 by amwellvets in events.

Join us in Amwell Street for the 10th annual fete. It will be bigger than ever and we need YOU to help make it happen. Join us…Host a stallDonate a raffle prizeSponsor the eventHelp out on the dayBe part of the showBake cakesContact Margaret here at Amwell Vets or email amwellstreetfete@gmail.com

Continue Reading... No Comments.